"We must first realize that dancing is an absolutely independent art, not merely a secondary accompanying one. I believe that it is one of the great arts."
Prodigious in his output, choreographing hundreds of ballets as well as works for Broadway, Hollywood, television and vaudeville, Balanchine revolutionized the way dance was taught in America with the founding of his school and company, changing the style and look of ballet and opening the eyes and ears of audiences to the marriage of music and dance.
As artistic director of the New York City Ballet and its predecessor companies, Balanchine supervised rehearsals and performances and was an active collaborator in the creation of the music, set design, costumes, hair and makeup, props and lighting.
George Balanchine and Igor Stravinsky with NYC Ballet dancers on the plaza at Lincoln Center, left Patricia McBride, Jacques d'Amboise, Suki Schorer, right Susan Kendall, Suzanne Farrell and Karin von Aroldingen
School of American Ballet
Founded in 1934, Balanchine's School of American Ballet focuses on a streamlined and clarified classical style that revolutionized dance and is still taught today.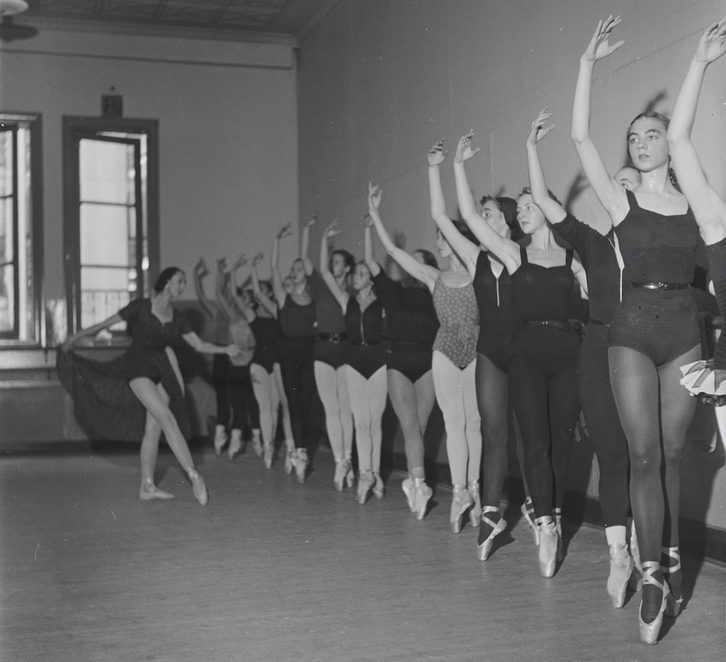 Felia Doubrovska teaching class
Photograph by Frederick Melton, 1953, courtesy of the New York Public Library
George Balanchine rehearsing a young Judith Fugate and Jean-Pierre Frohlich
Cabin in the Sky © 1940, 2022 The Heirs of W. Eugene Smith
Balanchine set pieces for opera, Hollywood, Broadway, the circus, television and British vaudeville, bringing his choreography to a wider audience whom he loved to entertain, successfully blurring the lines between the artistic and the commercial in dance.
Balanchine was a man of many talents outside the theater. Among his favorite divertissements were music, painting, carpentry and cooking. He could produce a piano reduction for a symphony as easily as a lavish Russian Easter buffet, and was lauded for both.